AEE Young Energy Professional of the Year Award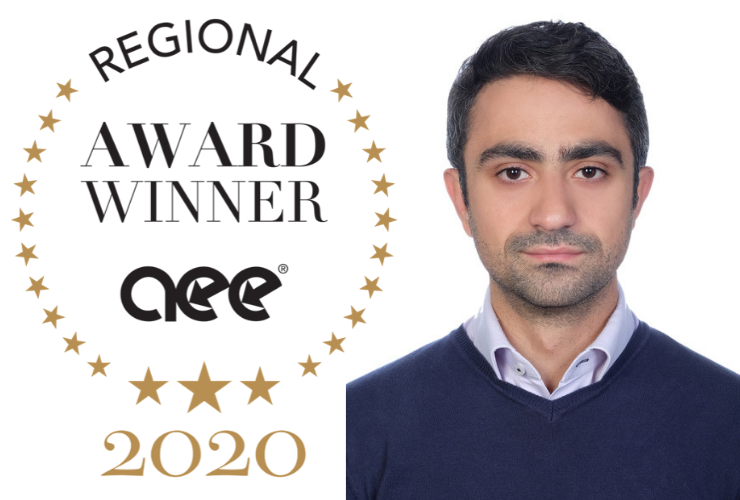 Antoine Skayem wins the Association of Energy Engineers Young Energy Professional of the Year award for the Middle East region.
The Association of Energy Engineers (AEE) is a non-profit professional society with over 18,000 members. The society offers a variety of informational outreach programs including training, conferences, certification programs. The AEE Regional Awards recognize achievements in energy in different categories in 15 different regions around the world.
This year, our CEO Antoine Skayem was awarded the "Young Energy Professional of the Year" in the Middle East region. The "Regional Young Energy Professional of the Year" is awarded to an individual who "has made outstanding contributions to the energy profession and to the community" in different areas that include but are not limited to:
Educational achievements
Professional and technical society activities
Energy Management achievements
Renewable Energy activities and achievements
AEE Awards are presented to energy professionals who have achieved international, national, or regional prominence in their fields.
Antoine is a hands-on leader & executive with robust expertise in agile business development and a deep understanding of the renewable energy, energy efficiency & sustainability sector. He started FREE energy in 2012, a firm specialized in customized energy solutions and grew the company towards its successful acquisition in 2017. Antoine is still acting as CEO and is currently leading the business development in KSA and other GCC countries. Antoine is very passionate about putting a dent in the planet's carbon footprint by creating the utmost value for the beneficiary and the environment.
Antoine is a Mechanical Engineer; he holds an MSc in Industrial Engineering and Management, CMVP®, CWEP®, ReGrid Manager, and Green Energy Finance Specialist.
We would like to congratulate Antoine on receiving this prestigious award, which was presented virtually on Wednesday, November 18th, 2020, and recognized on the AEE Lebanon website.
You can learn more about AEE and its awards here.
FREE